PSA Oxygen Generator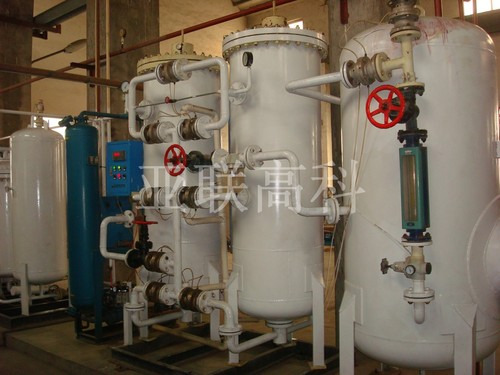 PSA Oxygen Generator
Price And Quantity
Product Specifications
Product Description
We are highly applauded name in the global market betrothed in offering an outstanding range of PSA Oxygen Generation Equipment. Our offered equipment is manufactured at our latest manufacturing unit under the supervision of our experts by making use of premium grade components and contemporary technology. This equipment is mainly used for concentrating the oxygen from a gas. Moreover, to fulfill the specific preferences of the clients, it is offered in different specifications. We assure on time delivery of this PSA Oxygen Generation Equipment at economical prices.
Features of PSA Oxygen Generator:
Hassle free functionality
Superior performance
Low power consumption
Robust structure
FAQs of PSA Oxygen Generator:
Q: What is a PSA Oxygen Generator?
A PSA Oxygen Generator is a framework that utilizes the strain swing adsorption cycle to create high-immaculateness oxygen gas from encompassing air. It uses adsorbent materials, commonly sub-atomic sifters, to specifically adsorb nitrogen and other follow gases, abandoning a surge of oxygen.
Q: How does a PSA Oxygen Generator function?
A PSA Oxygen Generator works by consistently compressing and decompressing two adsorption segments. During compression, nitrogen and different pollutants are adsorbed, permitting oxygen to go through. At the point when decompressed, the adsorbed gases are delivered, bringing about a flood of oxygen gas.
Q: What are the benefits of utilizing a PSA Oxygen Generator?
PSA Oxygen Generators offer benefits, for example, on location oxygen creation, high virtue levels (up to 95-99.5%), energy effectiveness, cost investment funds contrasted with fluid oxygen, and diminished strategic intricacies.
Q: Where are PSA Oxygen Generators regularly utilized?
PSA Oxygen Generators track down applications in different ventures, including medical services (clinics, facilities, and clinical focuses), water therapy, glass and metal assembling, aviation, and ozone age.
Q: What is the ordinary immaculateness scope of oxygen created by a PSA Oxygen Generator?
PSA Oxygen Generators can deliver oxygen gas with immaculateness levels going from 90% to 95% or higher, contingent upon the particular prerequisites of the application.