PSA Hydrogen Systems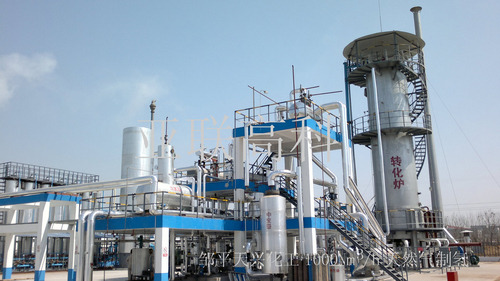 PSA Hydrogen Systems
Price And Quantity
Product Specifications
Industrial

Stainless Steel
Product Description
Our hastily rising enterprise is engaged in manufacturing, exporting and supplying high quality PSA Hydrogen Systems. These systems are highly demanded all over the globe for their outstanding functionality. Using superior quality components and progressive technology, our highly experienced team of professionals manufactures our offered systems in accordance with international industry standards. The provided systems are used for efficiently upgrading hydrogen-containing reformate for its methanol and ammonia synthesis. Besides, clients can avail these PSA Hydrogen Systems from us at economical prices.
Features of PSA Hydrogen Systems:
Robust construction
Environmental pollution free processes
High performance
Durable finish standards
Specifications of PSA Hydrogen Systems:
Production capacity: 400-20000Nm3/h

Purity: 99%-99.999% (v/v)

Pressure: 1.3-2.0MPa-g

Temperature: Ambient
Preface of PSA Hydrogen Systems:
For many years in China, H2 generation from natural gas is used to the process of gas preparation for producing synthesis ammonia, which is a long and complicated process with severe operating condition, higher investment and operation cost. Facing such a situation, our company has made an effective innovation in the reformer, desulfurization and conversion, the heat recovering system, etc. on the basis of the original ammonia process of gas preparation. This has made the cost of investment decrease drastically and the consumption of natural gas drop one-third in comparison with the old process. Our company has already transferred the new technology to the units of Pakistan, Bangladesh, Burma and Xinjiang Tianye, Xinjiang Huatai, Xinjiang Zhongtai, Tang Yin County Yuxin Company in Henan Province.
Process Flow Brief D

escription of PSA Hydrogen Systems:
The natural gas, prior to pressurization, desulfurization and mixing with aqueous vapor, is passed through a special reformer which is packed with catalyst for cracking and reforming to form the reforming effluent-a mixture of H2, CO2 and CO. After part heat is recovered, hydrogen will be obtained by converting the reforming effluent to reduce the amount of CO content and the shift gas is purified through PSA to get the pure H2.
Technical Features of PSA Hydrogen Systems:
1. It is a mature production technology, which can be operated safely and reliably.
2. Operation and control are reliable and applicable, and the automation is high.
3. The operation cost is low and the investment will be recovered in a short period of time.
4. The desorbed gas from PSA can be burned; which can both reduce the fuel consumption and decrease the ventilation of the waste gas.
Main Performance Index of PSA Hydrogen Systems:
Production Capacity : Depending on clients requirement and it is

400-20000Nm3

/h

normally
Purity :

99%-99.999%

(v/v)
Pressure :

1.3-2.0MPa-g

Temperature : Ambient
FAQs of PSA Hydrogen Systems:
Q: What is a PSA Hydrogen Framework?
A PSA Hydrogen Framework is an arrangement or gear intended to deliver high-immaculateness hydrogen gas utilizing the strain swing adsorption process. It uses adsorbent materials to isolate hydrogen from different gases in a gas blend specifically.
Q: How does a PSA Hydrogen Framework function?
A PSA Hydrogen Framework works by consistently compressing and decompressing adsorption beds loaded up with a particular adsorbent material. During compression, hydrogen gas is adsorbed, while during depressurization, the adsorbed gases are delivered, bringing about the creation of high-immaculateness hydrogen.
Q: What are the advantages of utilizing a PSA Hydrogen Framework?
Advantages of utilizing a PSA Hydrogen Framework remember for site hydrogen creation, high immaculateness levels (regularly surpassing 99.9%), energy effectiveness, diminished dependence on hydrogen chambers, and a persistent and solid hydrogen supply.
Q: Where are PSA Hydrogen Systems ordinarily utilized?
PSA Hydrogen Systems find applications in different enterprises, including hardware fabricating, compound cycles, metallurgy, energy units, and modern labs.
Q: What is the common immaculateness level of hydrogen created by a PSA Hydrogen Framework?
PSA Hydrogen Systems can deliver hydrogen gas with virtue levels going from 99.9% to super high immaculateness levels surpassing 99.999%.