Hydrogen Gas Plant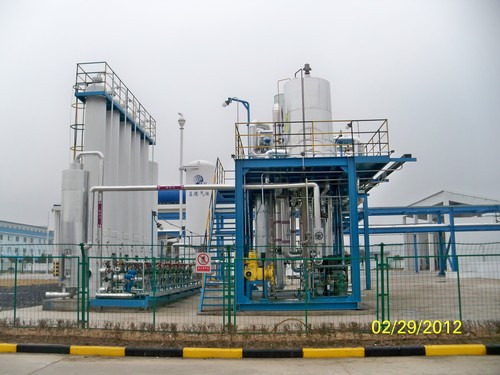 Hydrogen Gas Plant
Product Description
We are one of the crest manufacturers, exporters and suppliers of a wide assortment of Hydrogen Gas Plant. This plant is manufactured using supreme grade components under the proper direction of our experienced team of professionals. In order to ensure its hassle-free functionality, it is stringently tested on several defined parameters. It is available in numerous specifications and is widely used for producing liquid hydrogen that is further used as fuel. This Hydrogen Gas Plant can be availed from us at reasonable prices.
Features:
Robust construction

Hassle-free functionality

High performance

Less Maintenance
Process Flow Brief Description:
Air, after pressurized to the adsorption pressure by air compressor, is fed into adsorbers prior to passing the filtration of refrigerating dryer. The adsorbent is carbon molecular sieves. It is just making use of the property that adsorption amount of oxygen and nitrogen differs on the surface of the carbon adsorbent to adsorb O2 and desorb N2. The opening and closing of the program valves are controlled by the programmable logic controller (PLC) to complete each cycle of adsorption and desorption and then N2 is produced with the required purity. The two adsortbers are in adsorbing and desorbing alternatively to ensure N2 to be generated constantly and steadily.
Features:
The unit is supplied in a skid-mounted manner, which can be transported and installed easily.
The quality is reliable and both the N2 purity and quantity are stable. It is full automatic control and no need for operators, easy to start-up and shutdown, simplified and convenient maintenance.
It is an advanced technology with less investment
Main Performance Index

Dew Point at Atmospheric Pressure
-40C~-55C
Product Production Capacity

5~60000Nm3/h

Pressure
0.1~1.0MPa-g
Product Purity

95%~99.999%

(v/v)
Type
Model
Process Features
Over-trace H2
ANCH1
Process of over trace H2 hydrogenation: Adopting high-efficiency deoxidation catalyst, and both hydrogenation and deoxidation in a single adsorber.
Low-trace H2
ANCH2
Process of hydrogenation and deoxidation: Two kinds of catalysts in series with low trace H2 process.
ANCH3
Low trace H2 and deoxidation process. Adopting high-efficiency deoxidation agent and adsorbent.
No H2
ANCH4
Process of purification directly: No need hydrogenation in the process of gas generation, and the product is low trace H2 or no H2, but a small quantity of H2 is required by the deoxidation machine for replacement.