Hydrogen Gas Generator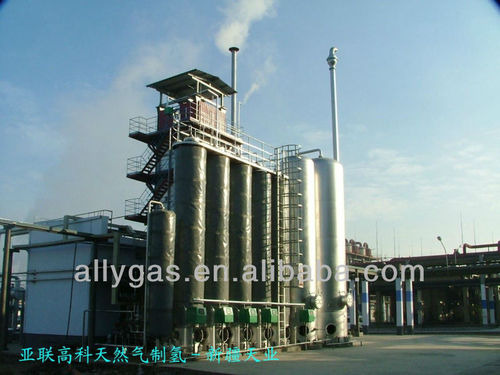 Hydrogen Gas Generator
Product Description
From our extensive range of gas production machinery, we manufacture, export and supply supreme quality Hydrogen Gas Generator. For the manufacturing of this generator, our team of experts makes use of superior quality components and contemporary technology in sync with the latest international standards. It is used in various industries for generating hydrogen gas. This Hydrogen Gas Generator is available in different specifications as per the application requirements of our clients at economical prices.
Features:
Long service life

High operational fluency

User friendly operations

Low energy consumption
1.Production capacity : 50~50,000Nm3/H
2.Purity : 99%~99.999% (v/v)
1. Operation and control are reliable and applicable, and the automation is high.
2. It is a mature production technology, which can be operated safely and reliably.
3. The desorbed gas from PSA can be burned; which can both reduce the fuel consumption and decrease the ventilation of the waste gas.
4. The operation cost is low and the investment will be recovered in a short period of time.
Steam reforming of natural gas, LPG or naphtha (feedstocks) with subsequent purification is the most economical and thus the most common process for hydrogne production and serves 95% of the world's hydrogen demand. The feedstock is desulphurized,mixed with steam and converted to synthesis gas in the top fired reformer furnace using nickel catalyst.The synthesis gas is cooled down in the heat recovery section and subsequently fed to the high temperature CO-convertion reactor followed by cooling and PSA purification system. Individual plant concepts with respect to desulphurization, product compression, water treatment, hydrogen product storage etc. can be offered.