Industrial Hydrogen Generation Plant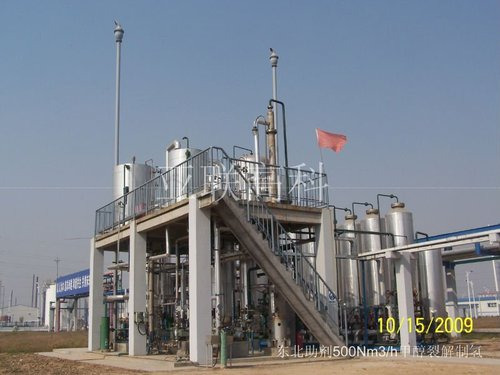 Industrial Hydrogen Generation Plant
Product Description
Being a top manufacturer, exporter and supplier of machinery, we are instrumental in offering an excellent quality range of Industrial Hydrogen Generation Plant. Provided plant is highly demanded for hydrogen production in various industries. Our team of technical experts manufactures the offered plant with the aid of latest technology by utilizing quality approved components procured from some of the certified sources of the market. Our esteemed clients can avail this Industrial Hydrogen Generation Plant from us at industry-leading prices.
Features:
Rugged design

Low maintenance

Hassle-free functionality

Trouble-free performance
1. Production capacity: 50~10,000Nm3/H
2. Purity: 99%~99.999(v / v)
1. Design for long lifetime
2. High automation and operational reliability
3. High quality and high safety standard
5. Prefabrication in skids/modules
BASIC PROCESS DESCRIPTION:
Methanol and fully demineralized water are mixed at a specified ratio. The feed mixture is pumped up and then preheated by heat recovery from raw hydrogen-rich gas. Vapourized and superheating to the optimal reactor inlet temperature is done by thermo-oil in the following heat exchanger.The vapourized mixture is catalytically reformed within the methanol reactor into a raw hydrogen-rich gas. The reaction is endothermic and the required heat is transferred to the process by thermo-oil, which avoids overheating of the catalyst. The thermo-oil is heated either by combustion of purge gas from PSA system or other fuel, depends on client's choice. The raw hydrogen-rich gas coming from the methanol reactor is cooled down in heat exchangers by simultaneous economical preheating of the feed mixture.The process condensate is seperated and sent back to the storage vessel to be reused.The hydrogen-rich gas is sent to the PSA system which usually consists of four adsobers filled with different absorbents. This process is based on Pressure Swing Adsorption by which the impurities are seperated to obtain high-purity hydrogen with purity up to 99.999% by volume. The purge gas from depressurization and purging during the regeneration step of absorbents could be used as fuel gas in the thermo-oil system.